Sorry guys there's just no way 6.5 inch door speakers are going to get you anywhere close to the bass a sub delivers as they're just too small for the woofer to give you the lows. I tried to run this in my Rav 4 with a JBL 4 channel amp that delivers 55 watt rms x 4 coupled with 4 JBL 55-60 watt speakers. I ended up bridging two of the amps channel to drive a 10 inch 100 watt kicker sub along with amplified front speakers only. The rears were just fill anyway so it still sounds great.
For this car I am thinking a spare tyre sub setup, they're hidden and more cost effective than a custom enclosure for the trunk. But if you like an underseat sub this might be overkill for you..
Examples of the spare tyre sub
Amazon.com: JBL Basspro Hub - 11" powered subwoofer system, Black : Electronics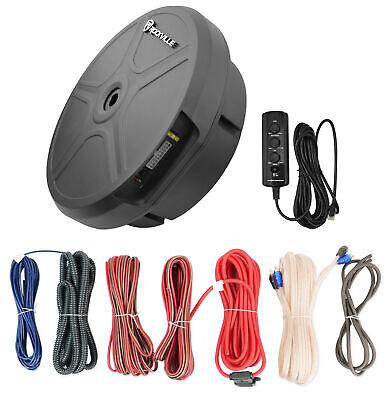 Find many great new & used options and get the best deals for Rockville RockGhost Active 8" Car Subwoofer For 15"/16"/17" Full Size Spare Tire at the best online prices at eBay! Free shipping for many products!