I was watching a video on Larry Chen's GR86 build and saw his antigravity battery which reminded me that I had a brand new Odyssey PC680 I picked up for another car but didn't use. I decided to take the PC680 for my GR86 and design an adapter so I could use the stock battery strap/tie down.
The stock battery is 35 lbs I believe and the PC680 is 15 lbs plus about 1 lb for the 3D printed adapter.
I made the base of the adapter to fit inside of the stock bottom tray. I split this into 2 pieces because my 3D printer isn't big enough. This requires two M3x16mm button head screws (or something close in length), I also used some CA (super glue) to bond these to each other towards the top. I added some tabs on each side so if the fit is too tight these can be filed down.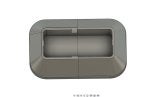 I made an adapter for the stock battery strap/tie down. The strap/tie down fastens to the 3D printed part using two M4x10mm screws and washers (button head or socket head will work).
The upper piece has a small recess for the insert (the part in the middle) to be glued into. There is also a small spacer (the C on the right) meant to be used with the M4 screw that hangs off the edge of the stock tie down/strap.
I printed these in PETG. I tried to make this light and strong. I used 6 perimeters and 15-10% infill in the slicer settings. The adapter is about 1 lb.
Here it is all Installed and its very secure with no movement.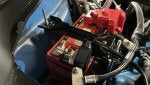 If anyone wants to print this you can find the STL here:
GR86 / BRZ battery Adapter for Odyssey PC680 by HumboldtEF
If you want to print one but dont have a 3D printer just download the files and take them to a print on demand place such a Jawstec . com
NOT FOR COMMERCIAL USE!
EDIT: I sized this to fit the PC680 with the metal jacket. It will still fit a battery without the jacket, it might just be a tiny bit looser fit until you strap it down.